Stay Golden: The Winner of Seven Styling's Mother's Day Giveaway
Updated: Jul 31, 2019
Do you ever wonder what kind of an old person you will be one day?
More specifically, which Golden Girl do you hope to emulate in your old age?
I know exactly who I'd be.
I'd be Rose and make astutely aggressive observations of those around me in an angelic trembling voice, playing dumb and farting without consequence. That seems to be the life, and I cannot wait for that day. I'd be adorable, say exactly what I mean 100 percent of the time while releasing my noxious gasses into the world unapologetically.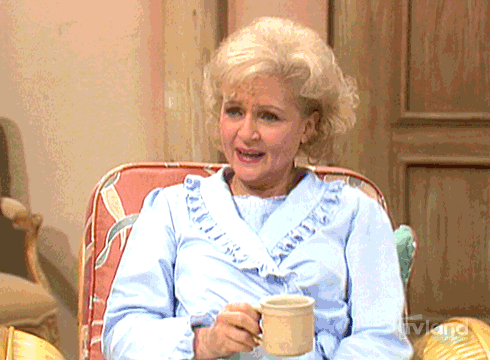 While there is much to be admired in the geriatric Golden Girl squad, it is quite the endeavor to identify as Sophia, who is arguably the ring leader of them all. She is a gritty, no-nonsense, tell-it-how-it-is, child-sized firecracker. Equal parts ingenious and scrappy, she could find a way to survive a bacteria-infested plague and just as easily make a Thanksgiving feast out of fried bologna.
I think I may have met a very young Sophia incarnate from nearby Vancouver, Washington: Drea Pittman, the winner of Seven Styling's Mother's Day Giveaway! Drea is a gritty, no-nonsense, tell-it-how-it-is, towering firecracker of a woman. She, like Sophia, is equal parts ingenuity and scrappiness, with quite the story to tell.
Meet Drea!
Drea has every season of the Golden Girls on DVD, and thanks to her doting husband, she also has a luxurious set of bedding that is signed by Betty White herself. Her love affair with the Golden Girls began long before loving the Golden Girls was "cool." She remembers singing the theme song as a tween and stuffing her fist in her mouth as Bea Arthur did through every opening credit. Her closet is laden with Golden Girls tees and leggings, her favorite go-to ensemble as a busy mom-on-the-go.
Drea is a mother to 6 amazing children. When Drea and I met for a morning of dress up and I asked her how her week has been, she immediately beamed and shared about her son and his new jazz band or how the neighborhood tweens have been circling the block on their bikes politely stalking her gorgeous daughter, Cricket. It seems life is all about the happenings of her 6 not-so-little ones. While Drea is obsessed with her kids and ensuring they are healthy and happy, the only person she isn't as obsessed with these days is herself. Admittedly, Drea told me:
"Sometimes, I wonder who I even am without my children or how I actually am. I go years without a haircut or buying myself clothes. Sometimes I forget I matter!"
Drea has wanted to be a mother ever since she can remember. When she was a teenager, Drea's mother, who struggled with drug addiction, left the family and never returned - leaving Drea to take the reigns as caretaker to her siblings. Surprisingly, the ability to nurture and protect kicked in immediately, and Drea found herself raising her siblings while trying her best to transition into teenage life. Eventually though, in the absence of her mother and a chaotic home life, Drea found herself battling drug addiction of her own. Struggling with addiction for two years, Drea made the decision for sobriety and made her way from Oregon to a YMCA in Florida, got clean and started rebuilding her life.
The story continues with meeting and marrying Cody who had two little ones in tow from a previous marriage. Drea and Cody added to their new family and found themselves pregnant with their first little one together. The two developed an interest in fostering children, and in addition to welcoming their first little one together, they also fostered their first new born who was eventually reunited with their mother. While they were happy to see their foster baby return to their mom, it was also an entirely heartbreaking process and led to a surprising bout of postpartum. With a bit of time and healing, they decided to try again for a little one and had their fourth child. Fast forward a few years, and Drea and Cody have added 2 more to their family of 6 - this time by way of fostering 2 young sisters who came from a chaotic home life. Her cousin, in prison for selling heroin, left his 2 daughters drowning in the Oregon foster care system. They had been placed in 3 different homes in just 10 months and were struggling. Drea and her husband jumped through every hoop and became guardians to the girls who were then 6 and 10.
The most unexpected thing that Drea experienced through fostering is that she has found what feels like an infinite supply of love in her heart. In her words:
"Just when I feel like my heart is so full of love it will burst and there couldn't possibly be more room for another speck, I always surprise myself when we meet a new foster child and my heart swells with even more."
The experience of fostering children has changed the trajectory of Drea's life. However, the unfortunate reality that many are often hesitant to foster older children is a burden that runs deep in Drea.
"For anyone interested in fostering, I implore you to consider older kids. I know when most people think of older kids in the system they worry about them being a problem or it being too hard. But these children want nothing more than to be loved and accepted. Babies are cute and sweet and I'm glad so many want to help them, but remember being a child yourself. Put yourself in their positions. They need love and families more than anything."
Throughout all of her family's changes, Drea's body has changed as well – she recently lost 60 pounds! With limited closet space, Drea needed to find staples that would be timeless and could be paired with things already in her closet all the while fitting her new body. One of Drea's biggest hopes for her style revamp was to present a woman and mother that her teens would be proud of.
"I want to feel age appropriate and pretty. I want my teens to feel proud of me and not embarrassed by what I wear."
My goal for Drea's styling session was to help her find style staples that were timeless, multifunctional, and would make her teens "ooh" and "ahh" at how very stylish their mama is – mission accepted.
Moto Jacket + Monochromatic Magic
My goal was to infuse Drea's wardrobe with a bit of structure and sass, and the Moto jacket fits the bill (see above). The Moto jacket is a modernized motorcycle jacket, a timeless piece that will never go out of style while effortlessly conjuring feelings of bad-ass. The jacket itself can dress up or dress down anything you throw its way and will add instant polish to any ensemble. For this look, the motto jacket has the slightest bit of shoulder padding to give Drea a slightly wider shoulder line that will add contrast to her waist. We have paired the Moto with a bit of monochromatic magic - black pants and a V-neck black tee. Drea's legline never seems to end with this ensemble, making her appear longer and leaner. The wonder of this outfit is that it is so chic and polished and yet can be mindlessly put together.
Pretty in Pink
When you are looking for a little polish in your life, always, always reach for the blazer. In this case we have gone for a playful hue of pink with a relaxed boyfriend cut (see above). This blazer can dress up the simplest tee shirt and jeans while being comfortable in the process. If you are a not a fan of blazers, I promise you will change your mind when you try on the boyfriend blazer, as the fit is like a tailored bathrobe of sorts while still offering plenty of polish. We have paired Drea's blazer with a V-Necked high-low magenta top. The V neck shows off her collar bone and elongates her neckline, and the unseen lower cut in the back offers a little flow, flounce and flirt on the backside. To complete the look, we have added a pair of dark-washed skinny jeans and some glorious, shimmery, sparkling flats. This look is perfect for any occasion: teen drop offs, photo shoots with clients, or date night. When you are pretty in pink, there is no place you cannot go.
The Hipster
I think it is miraculous how one button can be the difference between looking like a government building office worker or a fun and adorable stylish hipster mom-on-the-go. For Drea's look, we went the route of buttoning her collar all the way up. Admittedly this is a trend, but a trend that I adore and makes any dress shirt look instantly high-end. The shirt itself is flowy and draping, so the act of buttoning the collar to the very top button offers the illusion of a crisp collar, providing a bit of structure to balance all of the flounce. To complete the outfit, we have partnered this adorable orange button up with a pair of polka-dot ankle capris that hug and flatter Drea's leg line and draw some fun attention to her manicured toes and adorable strappy flats.
Bahama Mama
This Kaftan-esque top oozes all things bohemian on Drea (see below). The black and white leaf patterning is gorgeous against her skin tone and works to camouflage any wobbly bits underneath. Since Drea has a large bust, we wanted to be careful in choosing an appropriate pattern, as we all know the wrong pattern and color can lead to Boob-Zilla - a name I give boobs that look like they have grown to monstrous proportions when paired with an overly ambitious pattern and color combination. In this case, we have avoided all of that by choosing a kaftan that is patterned but in neutral tones, with some gaps in pattern that are filled in with white space. If you have a large bust and have been afraid to play with pattern, I encourage you to try leaf patterns that are of the black and white variety: they provide playful patterning and a bit of boob camouflage. We have finished the look with a pair of black skinny jeans and some fun strappy, studded flats. If Drea were to be out and about with her teens in this outfit, she may get mistaken for a cool older sister who just came back from a stylish vacation.
Stay Golden


There couldn't be a woman more deserving of Seven's Mother's Day Giveaway than Drea. She embodies the self-sacrificial attitude that all loving mothers have, and she had the incredible willpower and strength to pull herself (and others) out of chaotic situations to experience a life filled with love. Her new wardrobe of 7 lightly, consigned items is Seven Styling's way of honoring her and all the mothers out there like her. Enjoy your Mother's Day - you all deserve it!
And if Drea's story has inspired you to consider fostering children of your own, please do not hesitate to contact me and I can connect you with Drea to help you find resources and information to help with your process. As Drea mentioned, there are many older children without safe and liveable homes even in our own area, and they are waiting for someone to help guide them through a difficult time in their lives.
Lastly, if you feel like you could use a style revamp like Drea's, schedule a free consultation with me and let's get started! I'm running a Mother's Day Sale until May 31st, 2019 - 20% off all of Seven's personal styling packages!
#investyourimpression #seven #katdepner #style #secondstoimpress #personalstyling #wardrobestyling #portland #pdx #outfitideas #pdxstyle #portlandstyle #pnwstyle #pnwfashion #pdxfashion #outfitideas #portlandpersonalstylist #pdxpersonalstylist